Demand has not improved, refrigerant R134a weakly consolidates
Views: 23 Author: Site Editor Publish Time: 2022-01-07 Origin: Site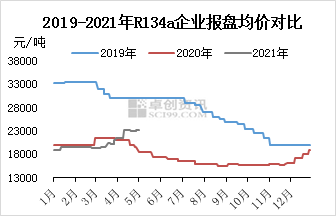 The demand has not improved, and the refrigerant R134a is weakly consolidating.
On the raw material side, the transaction price of anhydrous hydrofluoric acid is between 11,200 and 11,700 yuan per ton.
The factory reference for trichloroethylene is 6,900 yuan per ton, and the cost of refrigerant R134a is insufficient.
Terminal and foreign trade are currently in the export insuficient period, and exports are blocked; domestic trade mainly focuses
on just-needed purchases, and the overall terminal demand is poor.
On the supply side, the inventory of manufacturers is increasing, and the pressure on later shipments may be greater.
As of the closing price, domestic mainstream manufacturers are quoting 27000-30000 yuan/ton, and actual transactions refer to
25000-26000 yuan/ton for delivery.
FRIOFLOR predicts that the price of refrigerant R134a still has downward expectations.